Viva's Blog: When will the Browns win that 1st game?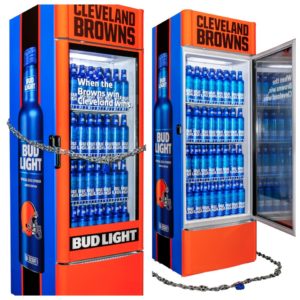 "Victory Fridges" have been installed in 10 Cleveland-area bars. Using smart technology, they will simultaneously unlock when the team wins their first game. It's a clever marketing stunt that benefits Bud Light, the Browns, local bars, and long-suffering Cleveland Browns fans.
There's a lot for savvy marketers to learn from Bud Light's latest trick.
Win #1: Involve your customer.
Customer loyalty is key to sustaining a business. Consumers have so many options today that brands have to innovate to keep customers engaged. One way to innovate is to involve your customers via experiences that are engaging and memorable.
Win #2: Make it remarkable.
Bud Light created a stunt that's ripe with intrigue. When will the Browns win that 1st game? The Victory Fridge stunt has already amassed media impressions from stories in Fortune to the Sydney Morning Herald and of course, plenty of Ohio media outlets. In just 24 hours, a Bud Light rep said that the gimmick has earned the brand more impressions than all but three of the brand's campaigns in the past year.
Win #3: Let people play.
Gamification, the science and psychology of gaming a non-game context to motivate and reward your customers, is one of the most proven ways to engage a community. Hats off to Bud Light for creating a game that attracts the interest of a wide-range of prospective customers.
Win #4: Use technology.
Imagine when the Browns win and the Victory Fridges simultaneously open across Cleveland. How many Snapchat and Instagram videos will capture the excitement?That magic moment is made possible by using smart technology. So much technology is available to marketers. It's our job to use it.
Win #5: Make it visual.
We're not used to seeing a beautifully-branded fridge full of Bud Lights with a silver chain and lock around it. The chain and lock don't do anything – they're just part of the show. Research has proven that our brains are hardwired to process images quickly. People only remember 10% of what they hear after three days, but if a relevant image is paired with that same information, retention can increase to 65%. Bud Light struck gold with its visual brand moniker adorning highly trafficked areas around town.
Win #6: Give people something to talk about.
Word-of-mouth marketing is the most effective form of marketing. After last year's 0-16 season, Clevelanders are beyond ready for a win. Bud Light is fueling the excitement spurring converations in Browns town and around the country.
Learn from Bud Light and score a win for your brand.