Viva's Blog: Super Bowl 2018 Ad Cheat Sheet
It's not too late. For only $168,333 a second, you can still buy a thirty-second TV spot during this year's Super Bowl.
Sure, a lot of money is on the line, but more importantly, so is a brand's reputation. In the year of the #MeToo and #TimesUp movements, all eyes will be on how brands depict women in their commercials. 
Marketers have released far less about their Super Bowl gems before the big showdown than in previous years. Are they smartly taking a fresh look at their creative to ensure it's entertaining and effective rather than being memorable for the wrong reasons?  
While you may not be in the market for a Super Bowl ad, we thought you might enjoy a sneak peak of ads that are already gaining traction.
Yell and scream during gameplay, but put the crowd on mute when it's ad time. Here are highlights from this year's playbook: 
#1: Skittles is nowhere in sight.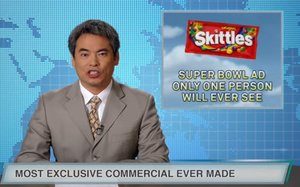 Every year, some marketers try to catch a ride on the Super Bowl publicity train by conspicuously not airing a Super Bowl commercial. Newcastle beer did it brilliantly in 2014 with a video of actress Anna Kendrick carping about how the brand promised her a Super Bowl commercial and then backed out.
This year, Skittles, which has aired Super Bowl commercials for the last three years, is creating an ad for just one person, Marcos Menendez, a Skittles teenage fan from Los Angeles. The 17-year old is viewing the secret commercial during the Super Bowl, while fans can watch a stream of his reaction to it on Facebook. The unique approach was launched last week with an online video announcement of the plan. "It's not technically a Super Bowl ad if it's not aired during the Super Bowl," a guy watching a mock newscast announcing the plan says in the video. He then suggests that the CEO of Skittles, a job that doesn't exist, will get fired over the bit.  
The schtick, which includes many teasers but no TV spots, is Skittles' way of being part of the big game in a fresh and less costly way.
#2: Bill Hader Stars in Pringles' First Super Bowl Ad.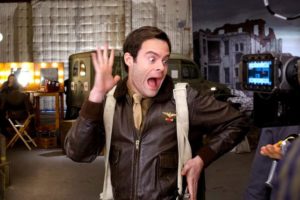 What has 267,720 variations, weighs less than an ounce, and appeals to people of every age? Pringles.
Staffers at ad agency Grey New York, who were munching on Pringles, realized you could create new flavors by stacking them. Think a bacon wrapped jalapeno popper stack, which is the combination of three Pringles canisters: bacon, loaded baked potato and jalapeno.
Bill Hader of "Saturday Night Live" fame will kick off the new "Flavor Stacking" campaign, which is the brand's first Super Bowl appearance. It'll be interesting to see if an ad celebrating fun and encouraging playful behavior will stay in the hearts and minds of consumers the next day. Will we see an increase in sales of Pringles?
#3: Bud Light's "Dilly Dilly" campaign goes to war during the big game.  
Have you seen the first four TV spots in the Bud Light "Dilly Dilly" Super Bowl five-spot series? The "Dilly Dilly" campaign has been on fire since the first ad hit the airwaves in August.
It's an advertiser's dream. The catchphrase has been used in everything from best-man speeches to the floor of the Colorado General Assembly to the offices of Merriam-Webster that tweeted: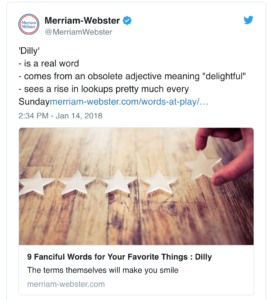 The medieval-themed satire launched while Game of Thrones was wrapping up. Coincidence? I think not. 
The second to last installment in the series features the great king giving the proverbial great wartime speech. However, he has a big problem. He faces larger and better equipped forces eagerly awaiting their attack on his beleaguered troupe of farmers and peasants. That's where Bud Light enters the picture. A quick pan of a pile of Bud Light behind enemy lines is revealed, and they're off!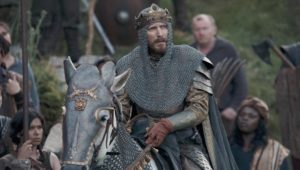 #4: Matt Damon stars in Stella Artois and water.org's ad urging viewers to "Make their Super Bowl party matter."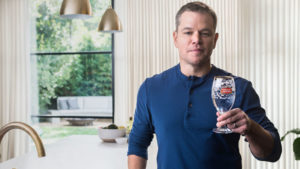 Few Super Bowl ads have KPIs (key performance indicators) related to solving global crises. Matt Damon recalls meeting a teenage girl on a trip to Zambia in 2006 who had dreams of becoming a nurse and "it reminded me of Ben Affleck and me when we were that age and we were going to New York and we were going to be actors." He reflected that a lack of clean water "robs people of any kind of hope". He mused that if you're going to bring beer to a Super Bowl party why wouldn't it be Stella?"
From now until April 15, every purchase of a Stella Artois 12-pack will help water.org  (which Damon co-founded in 2015) provide a year of clean water to someone in the developing world. Marketers are always on the lookout for compelling offers that speak to their audiences, and Stella Artois hit gold. 
While "drink more beer" isn't a mantra often heard from a non-profit, it may be a powerful combo that drives results. And advertising is supposed to drive sales, right?
#5: Groupon makes a deal with actress, brand loyalist, and viral aficionado Tiffany Haddish.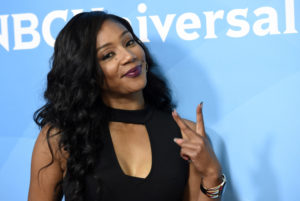 Girls Trip star Tiffany Haddish parlayed her viral Groupon story into an ad gig that includes a Super Bowl spot. Haddish recently told Jimmy Kimmel about taking Will and Jada Pinket Smith on a Louisiana swamp tour she bought on Groupon. As she explained, "I've been speaking out for them for years. In fact, I should have already been their spokesperson. I've invested lots of money into buying Groupon deals, and it's about time that I got an even bigger return on my investment than just saving money at my favorite local businesses." Haddish ranks in the top one percent of most frequent Groupon buyers. 
Groupon smartly picked a hot viral asset to remind people that it's still alive and kicking. 
#6: Hyundai has a hard act to follow.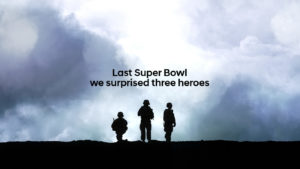 Will Hyundai be able to live up to the high standards they set for themselves last year  when they filmed live during the game? In last year's "Operation Better," three overseas troops watched the Super Bowl in 360-degree immersive pods where they virtually reunited with their families who were at the studium. Video ad tech company Unruly's EQ Score rated that spot as most "effective" in terms of "likely emotional, social and business impact."
This year, a teaser that aired during the AFC and NFC championship games last weekend explained, "we'll surprise millions and you might be one of them." While we doubt they're giving away millions of cars, if the surprise is memorable and catapults the brand, then they will have a lot to celebrate post SB. 
Keep an eye out for ads that speak to you during the big game. What ideas inspire you to create unique and memorable brand experiences for your customers?